Researchers went looking for a war wreck roughly 19,000 feet under the sea—and spotted the animal instead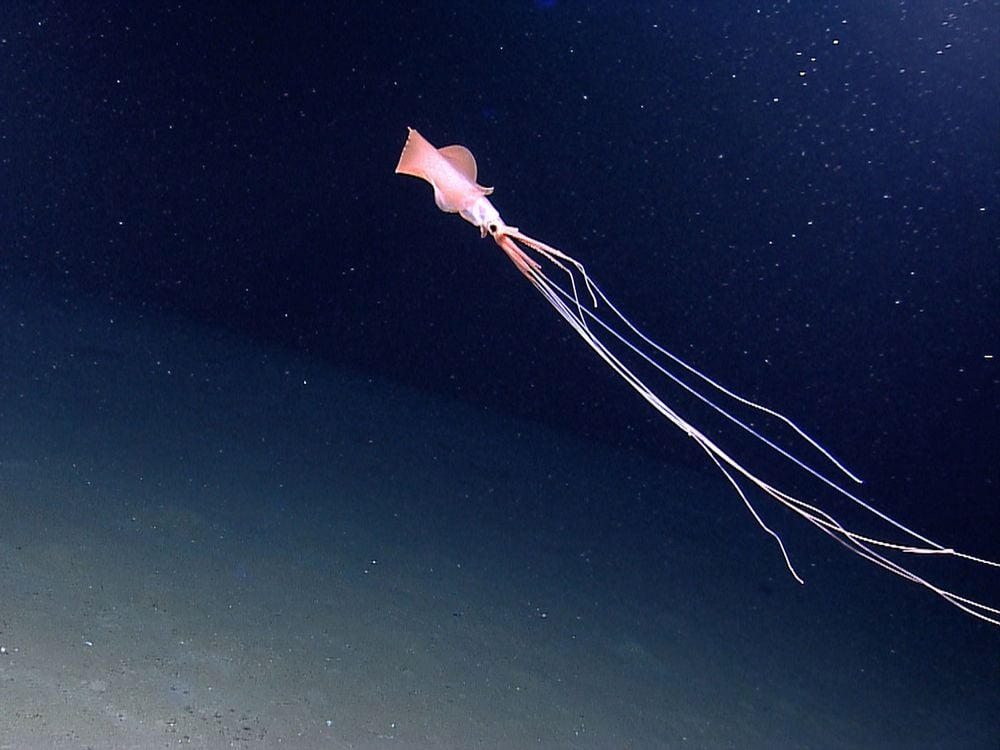 Little is known about most magnapinnid, or bigfin squid, species. The individual pictured here was spotted by the NOAA ship Okeanos Explorer in the Gulf of Mexico. Recently, a magnapinnid was filmed in the Philippine Trench—the deepest ever sighting of a squid.
When a team of subsea explorers completed the deepest ever dive to a shipwreck earlier this year, the news was broadcast around the world. A team from Caladan Oceanic found the USS Johnston, which sank during an intense naval battle in 1944, to be astoundingly well-preserved, its guns still pointing in the direction of the enemy. A few days before making their record-setting trip, however, the explorers had carried out another descent to the seafloor, a dive that ended up being a few kilometers off the mark.
Though they failed to find the wreck that day, they did find something else.
Once footage from the excursion came in, Alan Jamieson, a deep-sea researcher from the University of Western Australia, sat in his office aboard the expedition ship scrolling through frame after uneventful frame, searching for anything that might be of interest.
The two-person submersible, piloted by Victor Vescovo, the American investor who founded Caladan Oceanic, appeared to have glided past little more than mud—and more mud—on its long journey through the Philippine Trench, which lies 6,200 meters below the surface, east of the Philippines.
But then, for just a few seconds of video, something strange moved in the distance. Jamieson rewound and played the short sequence again. And again.
On his screen, caught in light cast by the submersible, was a hazy yet recognizable form: a squid. It was cruising just above the seabed one and a half kilometers deeper than anyone had ever seen a squid before.