The arachnids propel themselves to safety at breakneck speeds after they've mated to avoid being eaten alive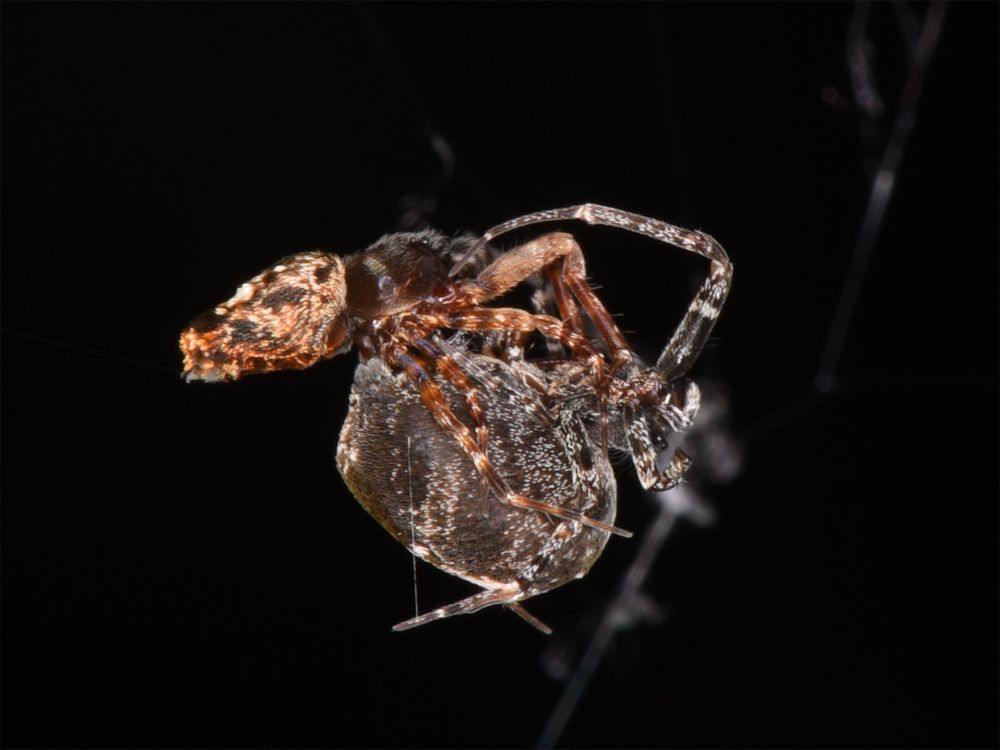 A male Philoponella prominens spider (top) mates with a female.
A bad date can be an unmitigated disaster of awkwardness for humans, but for male spiders it often means being eaten alive by the much larger, hungry female. To avoid being cannibalized after sex, the males of some species have resorted to ripping off their own legs to distract their beloved with a bit of food, or even to tying up the female's legs with silk before mating with her.
But males of the orb-weaving spider Philoponella prominens opt for another strategy that might appeal to anyone who has ever wished for an eject button during a date that's gone downhill fast. According to research published today in Current Biology, males use their two front legs to catapult themselves to safety as soon as they've mated.
The males that don't launch themselves out of their lover's embrace in time suffer a grisly fate. Philoponella prominens is part of a family known as the hackled orb weavers. These spiders don't have venom to help them kill or immobilize their prey. So instead of a quick, venom-induced death, the females mummify the less spry spider-men so tightly that their legs break and they are either crushed to death or suffocate. A 2006 study of another spider in this family found that this crushing wrap-job required some 450 feet of silk.
Shichang Zhang, an arachnologist at Hubei University and lead author of the study, writes in an email that he and his colleagues were studying the sexual behavior of this species, which lives in communal webs of up to 300 individuals, when they noticed tiny males (each one less than a quarter inch long) bounced away from romantic encounters with females.
Zhang wanted to understand three concepts: why the males were jumping off the females; which body parts the males were using to do it; and what kinds of speed and acceleration they managed to achieve. To do this, he brought high-speed cameras and a lot of P. prominens spiders into the lab.
The team observed 155 instances of successful spider mating, and all but three of the males involved flung themselves as far away from the female as they could once mating concluded. The three males that opted to stick around were all subsequently killed and consumed by their sexual partners.