From soaring snakes to surfing suckerfish, nature is an endless source of inspiration
Many new inventions and technologies derive inspiration from nature. The practice of modeling artificial products after biological processes is called biomimicry or biomimetics. Janine Benyus, co-founder of the Biomimicry Institute, popularized the term in her 1997 book, Biomimicry. "Biomimicry," she wrote, "is basically taking a design challenge and then finding an ecosystem that's already solved that challenge, and literally trying to emulate what you learn."
Small, Tadpole-Like Sea Creatures Make Slimy Inflatable Filtration Systems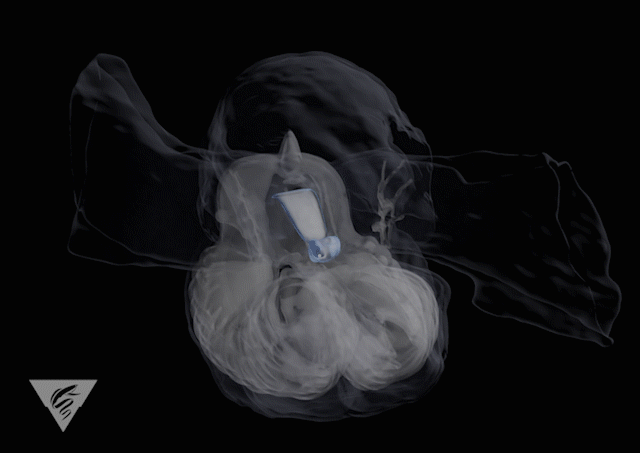 Giant larvaceans are shaped like tadpoles, only slightly larger; their bodies measure up to four inches in length. These tiny creatures live freely hundreds of feet below the sea surface, where food sources are scarce.
This year, researchers used laser scanning tools to unveil the complex "snot palaces" the creatures build, as study author and bioengineer Kakani Katija of Monterey Bay Aquarium Research Institute calls the structures. These tiny armless, legless creatures use their own secretions to construct elaborate clouds of snot complete with chambers, ribbed walls, tunnels, halls and chutes.
Much like spiders and their webs, larvaceans use these mucousy structures to capture tiny, sparse food particles floating by. Their little body sits in the middle of the "house," while they wag their little tail to pump water through the labyrinth of channels and into their mouths—almost like an elaborate plumbing system of sorts. The cloud doubles as an invisibility cloak by concealing the critter's motion in the dark depths where any false move is a death sentence.
Katija hopes to pull inspiration from these critters to one day create a biomimetic inflatable filtration system. Given that these animals can filter out particles smaller than viruses, perhaps medical-grade or HEPA filters could be improved with such a device.
An Iron-Packed Protein Is Key to a Tube Worm's Glowing Blue Goo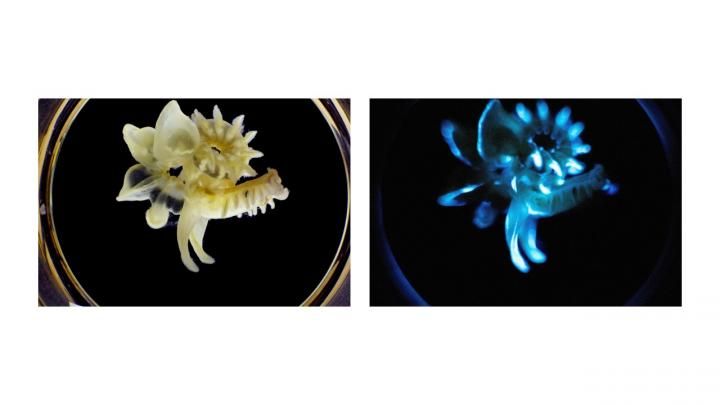 The flashes of bioluminescent critters, like fireflies, typically last from less than a second to at most 10 seconds. But not the marine parchment tube worm—these ocean swimmers produce a bright blue goo that stays aglow for anywhere from 16 to 72 hours. Because the slime keeps shining outside of the worm's body, it doesn't waste the organism's energy, which is great for the worm's survival, but begs the question: How does it keep glimmering for so long?
University of California, San Diego researchers Evelien De Meulenaere, Christina Puzzanghera and Dimitri D. Deheyn examined the complicated chemistry of the worm's mucus and found that it contains an iron-packed protein called ferritin, which emits ions, or electrically charged atoms. This form of ferritin reacts with the blue light, triggering more ion production, which in turn keeps the light glowing in a feedback loop.
The team hopes to replicate the tube worm's unique photoprotein—or a protein linked to bioluminescence—to illuminate cancer cells during surgery. On a simpler note, Deheyn also says they could develop a synthetic biological battery of sorts that could be used in emergency situations when electricity is out. He compares the idea to glow-in-the-dark stickers.
Bumblebees May Know How Big They Are
Bumblebees have a reputation for clumsiness, but perhaps that's a bit of a misjudgment on our behalf. One summer day, engineer Sridhar Ravi of the University of New South Wales in Canberra was watching bees navigate around branches and shrubs with ease. He was shocked that an organism with a rather small brain is capable of overcoming these challenges.
To put the bees to the test, Ravi and his team connected a tunnel to a beehive in their lab. They placed a narrow gap inside the tunnel as an obstacle and made it smaller and smaller over time. When the gap was smaller than the bees' wingspans, they paused to scan the opening and then turned sideways to get through the gap without damaging their wings. Accomplishing even this small feat requires some awareness of how big one's body is from different angles, an aptitude that insects aren't generally thought to possess.
But if small-brained bees can handle it, Ravi says robots may not need big complicated processors to get better at navigating their surroundings. "Complex perceptions do not need sophisticated, large brains and can be achieved at small size scales with much fewer neurons," he tells Smithsonian. This idea is exciting to consider when thinking about developing less-clumsy robots. Hopefully, the researchers can use their findings to improve robotic flight or swimming abilities.
"The graduation from merely sensing to be able to perceive will be mark an epoch in the field of robotics," Ravi says.
A Leaf-Cutter Ant's Body Armor Has an Extra Mineral-Based Protective Coating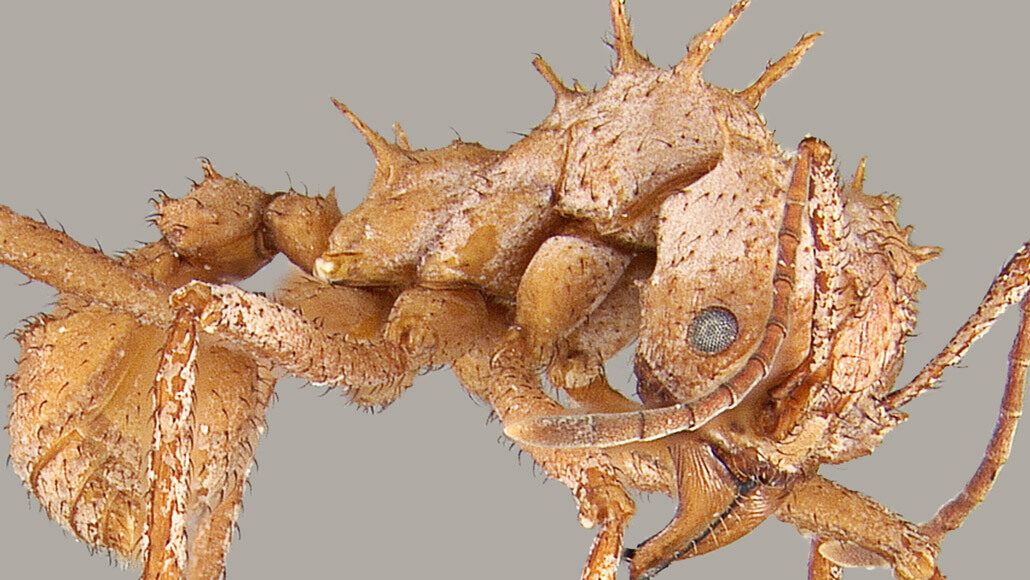 When evolutionary biologist Hongjie Li realized the leaf-cutter ants he was studying had a thin layer of mineral body armor, he told his colleague: "I found rock ants."
To study the ant's exoskeleton further, the coating would need to be removed, but how? Li had an epiphany while brushing his teeth, he tells Science News. Mouthwash removes plenty of junk from our teeth without damaging our cheeks, gums and tongue. His hunch did the trick, and mouthwash dissolved the mineral coating without damaging the exoskeleton. Through more traditional lab experiments, the team determined the mineral coating is made of calcite with a high concentration of magnesium. In sea urchins, this mixture of calcite and magnesium is thought to make the small "stone tip" of its tooth capable of grinding through limestone.
"Integration of magnesium in calcite could be especially beneficial for any nanotechnology that involves the use of calcite, such as in plastics, adhesives, construction mortar and dentistry," explains study authors Cameron Currie and Pupa Gilbert in an email to Smithsonian magazine.
Some Moths Have an Acoustic Cloak That Dampens Bat Sonar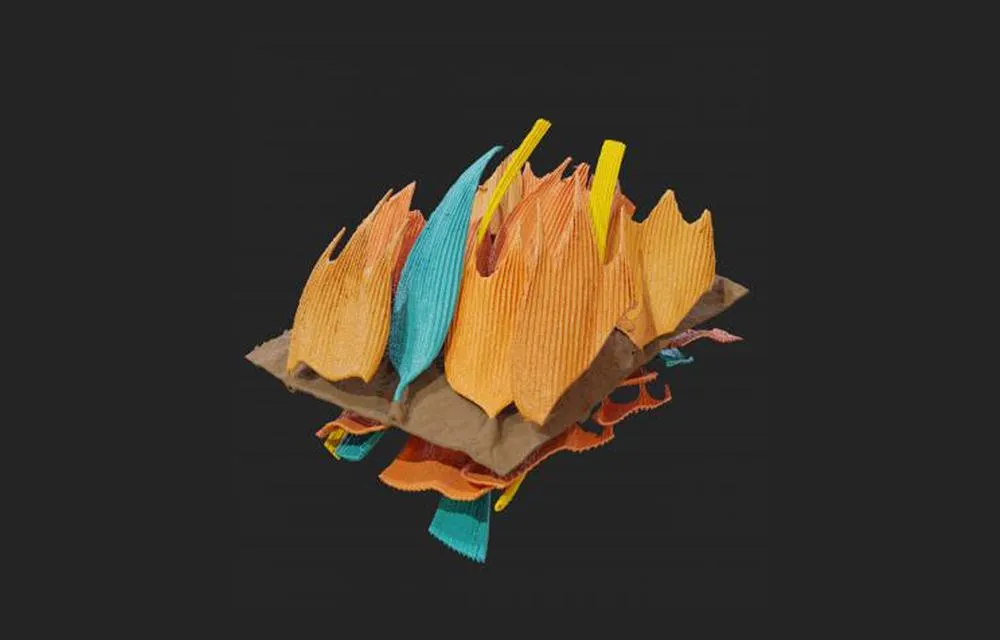 To be a moth desperately hiding from a predator that uses sound to "see" is no easy feat, but some of these winged insects have evolved impressive features to shield themselves from bats.
In addition to sound-softening fur, two earless moth species have fork-shaped scales on their wings that help absorb bat sonar, researchers found earlier this year. Individual moth's wings are covered in tens of thousands of these tiny scales, each one less than millimeter long and just a few hundred micrometers thick. Each scale warps the sound of the wing, slowing down its acoustic energy and in turn, reflecting less sound back to the bats. The scales seems to resonate at a different frequency and as a whole, they can "absorb at least three octaves of sound," reports Anthony King for Chemistry World.
"They are highly structured on a nanometre scale with strongly perforated corrugated top and bottom layers that are interconnected by a network of minute pillars," study author Marc Holderied of the University of Bristol tells Chemistry World.
Holderied estimates moth-inspired soundproofing techniques could make materials "10 times more efficient at absorbing sounds." Rather than installing bulky panels in homes and offices, he envisions sound-absorbing wallpaper coated with scale-like nanostructures.