From before the dinosaurs to the Ice Age, several mammals and their forerunners sported the iconic, curved teeth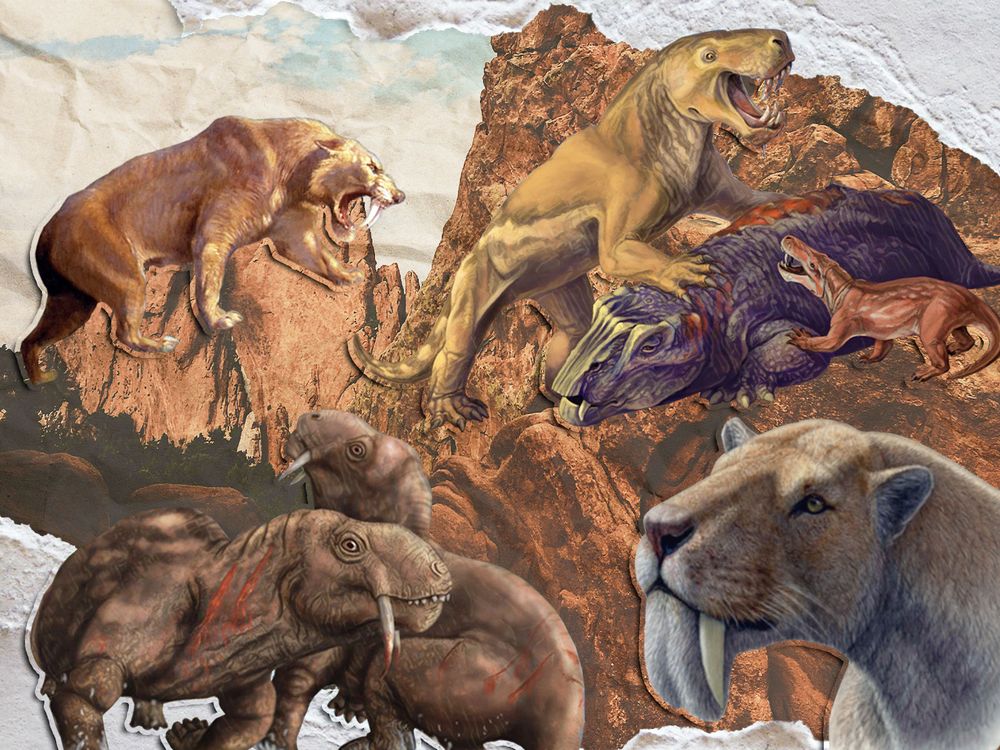 Evolution has a fondness for saber-toothed creatures. Time and again, animals with elongated canine teeth have roamed the planet. The ferocious Smilodon of the Ice Age is among the most famous: a lion-sized cat with huge fangs that hunted ancient horses and bison across the Americas. But that's only the tip of a saber-toothed history going back more than 250 million years.
Most of the time, paleontologists use the term "saber-toothed" for carnivorous mammals who use long, flattened canine teeth to puncture or shear away the flesh of other creatures. But the designation isn't quite so simple. Other mammals and even proto-mammals have been called saber-toothed even though they're herbivores, using very similar teeth to tussle with each other rather than bite into prey. On that score, there are technically still some saber-toothed animals around today. Male musk deer compete with each other every mating season by fighting with their fangs.
Even among saber-toothed carnivores, though, more than one tooth shape or dental arrangement has worked. Saber-toothed cats, for example, are often divided into the dirk-toothed and scimitar-toothed groups. Most of the dirk-toothed cats had longer, finely serrated fangs, while scimitar-toothed cats had shorter canines with shorter serrations, and paleontologists suspect that the different tooth shapes indicate different biting techniques. Such differences underscore that there were many ways to be saber-toothed, and the following creatures help highlight the variety of fanged creatures that have walked the earth.
Tiarajudens eccentricus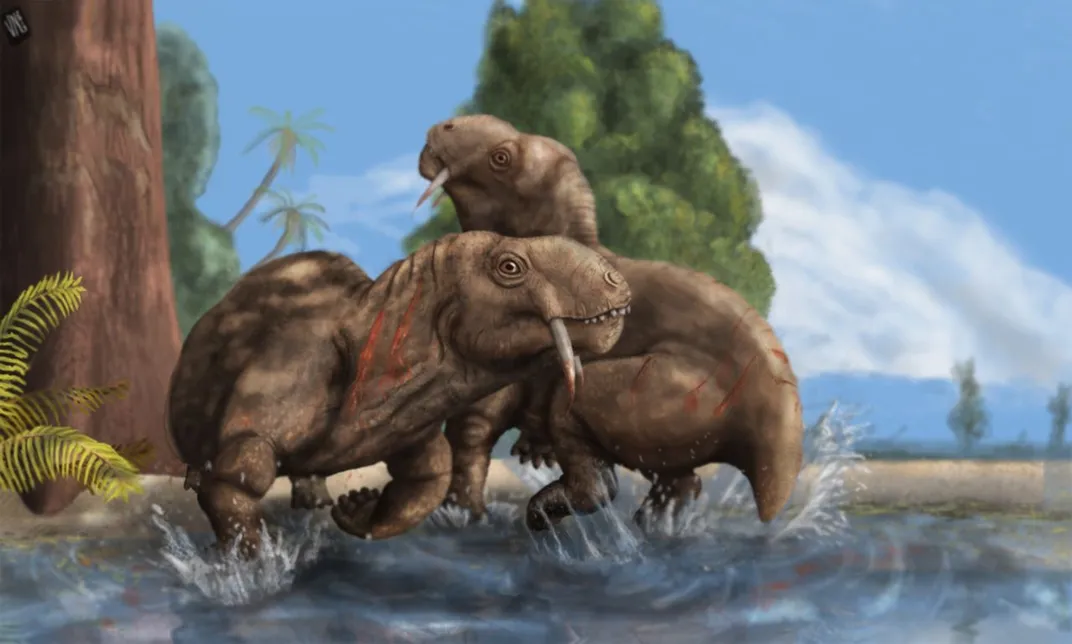 One of the oldest saber-toothed creatures we know about was an herbivore. Named in 2011, Tiarajudens eccentricus was a squat, tubby proto-mammal that roamed prehistoric Brazil about 260 million years ago. Relatively little of the animal's skeleton is known so far, but paleontologists nevertheless uncovered a beautifully preserved cranium that shows the creature had long, flattened canine teeth jutting from the upper jaw. Those teeth weren't for piercing prey, though. Most of the proto-mammal's teeth were suited to grinding and crushing—the teeth of an herbivore—and so paleontologists think that Tiarajudens used their fangs in combat with each other the way those modern musk deer do.
Inostrancevia africana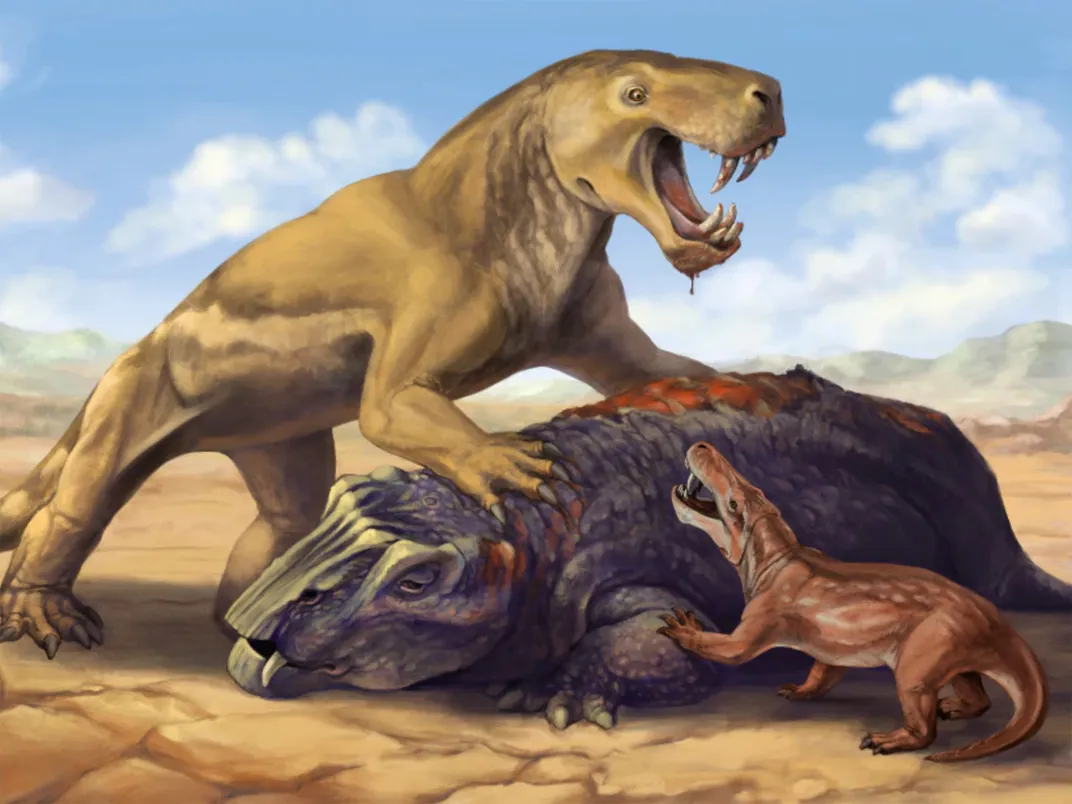 Of all the saber-toothed carnivores to stalk the planet, Inostrancevia was one of the largest. The biggest adults could be more than ten feet long and weighed more than 600 pounds, about the size of an adult black bear. And while the earliest examples of Inostrancevia were found in Russia, paleontologists recently discovered that the proto-mammal made it to prehistoric South Africa, too, indicating members of the genus migrated 7,000 miles across the ancient continent of Pangaea.
Named Inostrancevia africana, the new species was similar in size to those found in Russia and is likely descended from them. The carnivore is thought to have walked across Pangaea to reach the area now preserved in South Africa's Karoo Desert. The move might have been one of desperation. Rapid climate change caused ecosystems to quickly shift and collapse, perhaps driving the saber-toothed animal to wander farther in search of adequate prey. Inostrancevia africana likely replaced earlier carnivores in South Africa that had gone extinct, itself disappearing during a drawn-out, million-year mass extinction driven by volcanic activity at the end of the Permian Period around 252 million years ago. Another saber-toothed carnivore of comparable size wouldn't arise until more than 200 million years after the extinction of Inostrancevia.
Uintatherium anceps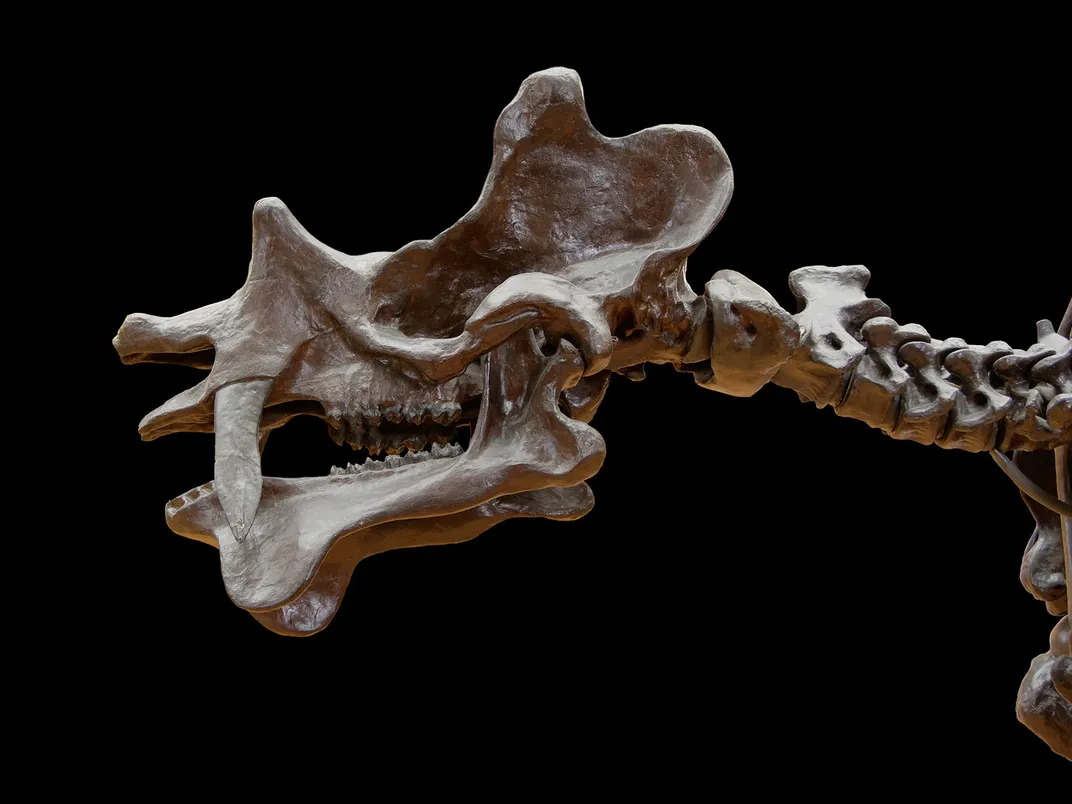 Uintatherium anceps is surprisingly famous considering that we still know relatively little about it. The huge herbivore roamed what's now the western United States between about 38 million and 56 million years ago. The mammal's instantly recognizable skull had three sets of blunted horns and a set of long, flat canine teeth that rested against a bony sheath on the lower jaw.
Paleontologists have been puzzling over Uintatherium since the late 19th century. In fact, the infamous "Bone Wars" between cantankerous naturalists Edward Drinker Cope and Othniel Charles Marsh did not start over a dinosaur, but over specimens of Uintatherium that both researchers gave different names in their rush to publication. The paleontologists and field crews they hired collected multiple specimens of the mammal, as well as other prehistoric creatures, and tried to outdo each other in being first to name and describe as many fossil creatures as possible.
To this day, the mammal is placed within its own order—the Dinocerata—but paleontologists don't know how the dinoceratans fit into the broader mammal family tree or much at all about the animal's biology other than it was a large plant-eater. Experts suspect that the long teeth played some role in how the mammals selected mates, like Tiarajudens, but details will remain speculative until experts turn their attention back to this neglected fossil celebrity.
Diegoaelurus vanvalkenburghae