Amazing details about the buzzing insects set to storm the United States this spring
Cicadas inundate forests as a survival mechanism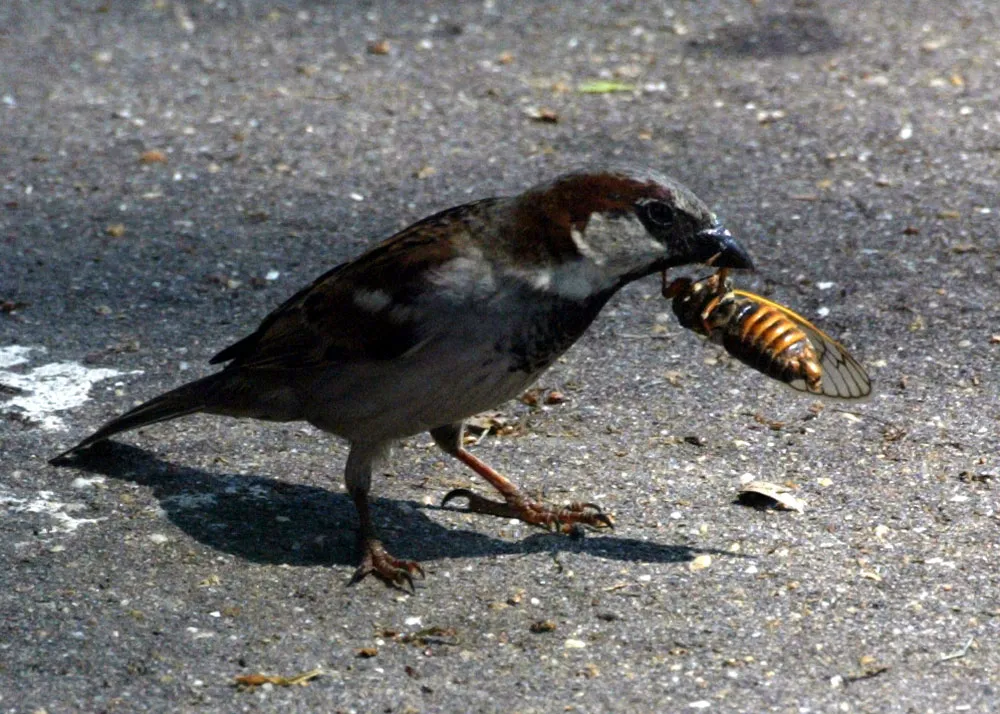 By emerging all at once in densities of up to 1.5 million per acre, cicadas manage to overwhelm predators, from songbirds to skunks, who quickly get too full to take another bite of the buzzing buffet.
"It's very much like when you go to an all-you-can-eat crab feast," Gaye Williams, an entomologist for the Maryland Department of Agriculture, tells Darryl Fears of the Washington Post. "The very first bunch that you throw down on your table, everybody grabs crabs and you start cracking them, and you take every last molecule of crab meat. About the fourth tray … people only take the claws. As this orgy of eating goes on, there are animals that actually won't touch them anymore. They're full."
Once the raccoons, frogs, snakes, squirrels, possums and any other animals interested in an easy meal can't eat anymore, the cicadas are free to go about their business of spawning the next generation.
Humans eat them, too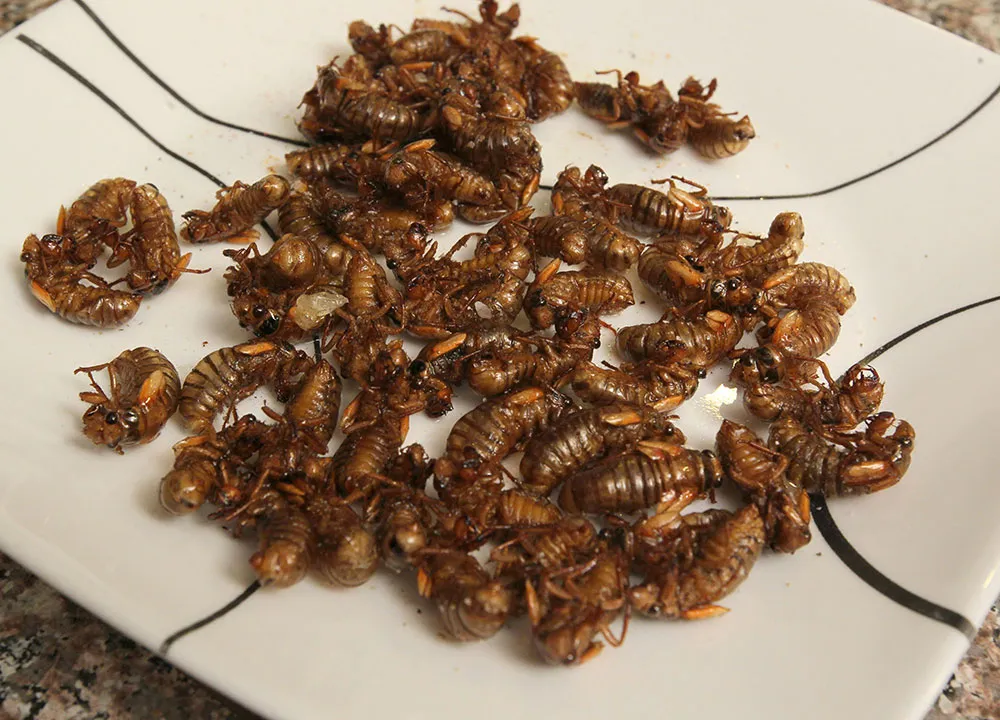 Animals aren't the only ones that chow down on the cicada buffet. Humans also get in on the act. Claims about what they taste like vary, with some people comparing them to shrimp, others to asparagus and a few people even mentioning peanut butter. But before you go wild eating cicadas, please note that they may contain elevated levels of mercury and can cause allergic reactions, especially among those with shellfish allergies.
For Native Americans, the history of eating cicadas goes deep. A mid-20th century account tells of the Cherokee in North Carolina digging up cicada nymphs and frying them in pig fat or pickling them for later, reported Mark Hay for Atlas Obscura in 2018.
Near Syracuse in upstate New York, members of the Onondaga Nation eat cicadas during mass emergences like the one Brood X is about to put on, Rick Rojas reported for the New York Times in 2018. The practice ties the Onondaga people to their ancestors, who ate the bugs to survive when settlers and missionaries had burnt their crops and ransacked their villages.
Their lengthy life cycles may help them evade predators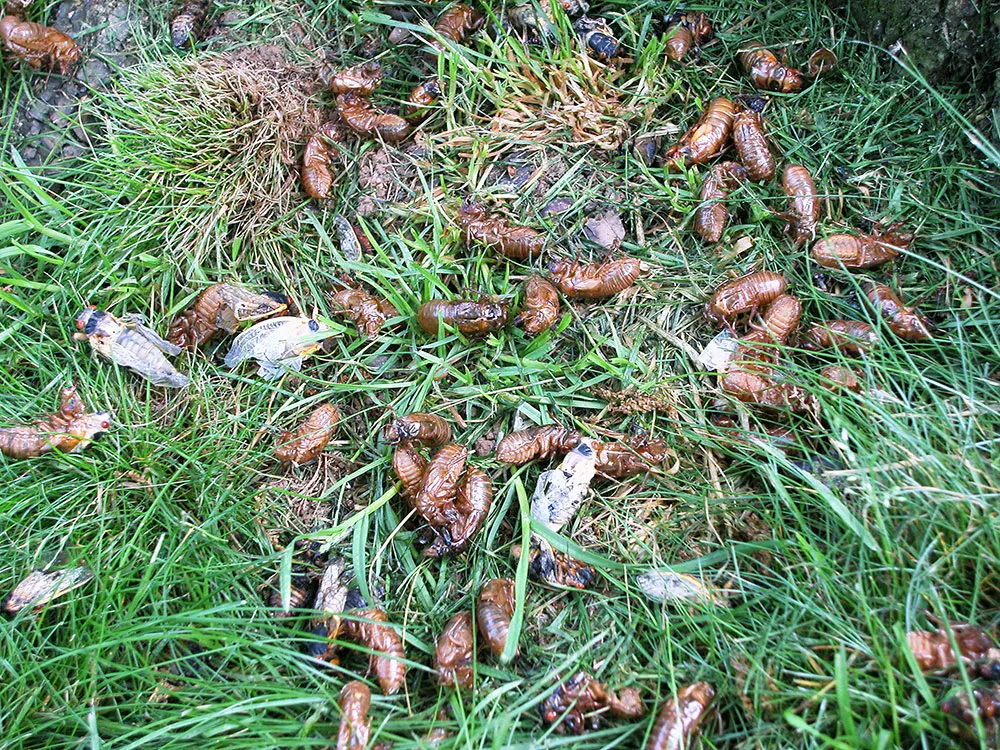 One hypothesis for the reason behind the periodical cicadas' seemingly inscrutable selections of 13- and 17-year increments for their reproductive cycle centers around the fact that both numbers are prime. The idea is that by popping out of the ground only in prime numbered intervals, periodical cicadas avoid ever synching up with booming populations of predators, which tend to rise and fall on two to ten year cycles, wrote Patrick Di Justo for the New Yorker in 2013.
Mathematically speaking, the logic checks out, but the thousands of cicada species around the world that don't have synchronized brood emergences in prime increments cause cicada researchers to wonder if this is the whole story. If the periodical cicada's unique life cycle is so uniquely advantageous, why haven't the rest evolved similar reproductive strategies?
More than 3,000 species exist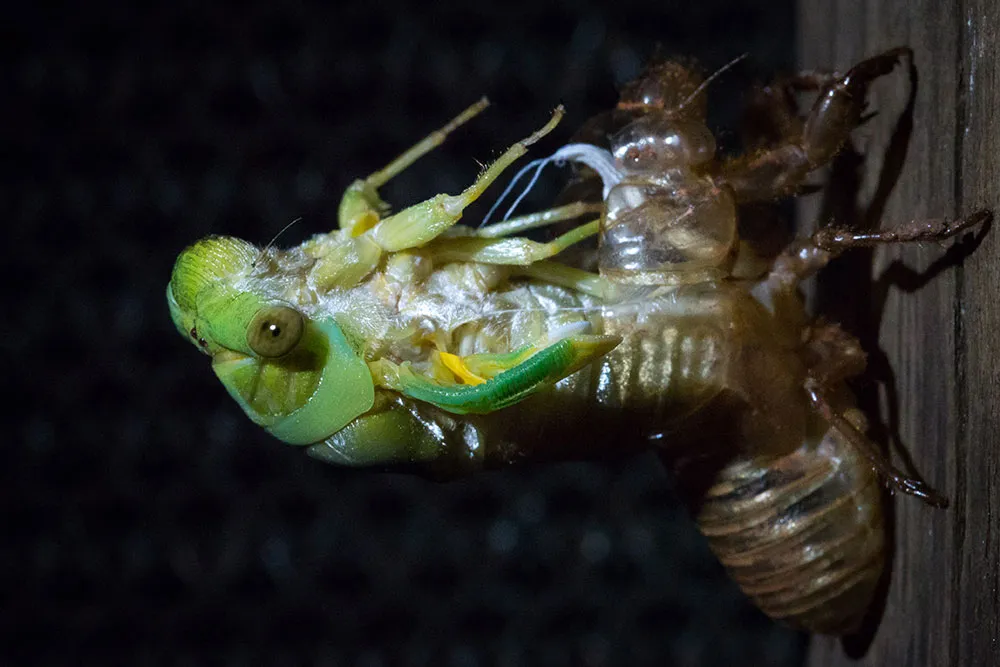 Not all cicadas emerge every 17 or 13 years. Nearly 3,400 species of cicada exist worldwide and the majority of them conduct their emergences every two to five years. Periodical cicadas, made up of seven species in the Magicicada genus, are the only ones that spend either 13 or 17 years underground and they are only found in the U.S. Three of the Magicicada species are 17-year cicadas, while the remaining four operate on 13 year cycles. With multiple species on both schedules, periodical cicada broods often contain multiple species. This might seem strange but the predator-bombarding benefits of emerging en masse remain the same as long as the multi-species broods remain synchronized.
They can buzz louder than a lawnmower
A full-scale cicada emergence like the one coming for the eastern U.S. can reach a deafening crescendo as millions of males all call for mates at the same time. The amorous din can reach roughly 100 decibels, which is just shy of standing three feet from a chainsaw. To make their love buzz, the male cicadas rapidly vibrate a pair of white, ribbed membranes called tymbals that sit on either side of their abdomens.
Scientists from the Navy's Undersea Warfare Center have studied cicadas in hopes of figuring out how male cicadas manage to produce their incredibly noisy mating calls without expending much effort. The idea is that a device that mimicked a cicada's method of sound production could be used for remote sensing underwater or ship-to-ship communications.