When the rodents are moved from backyards to wild areas, they make their new watersheds better for fish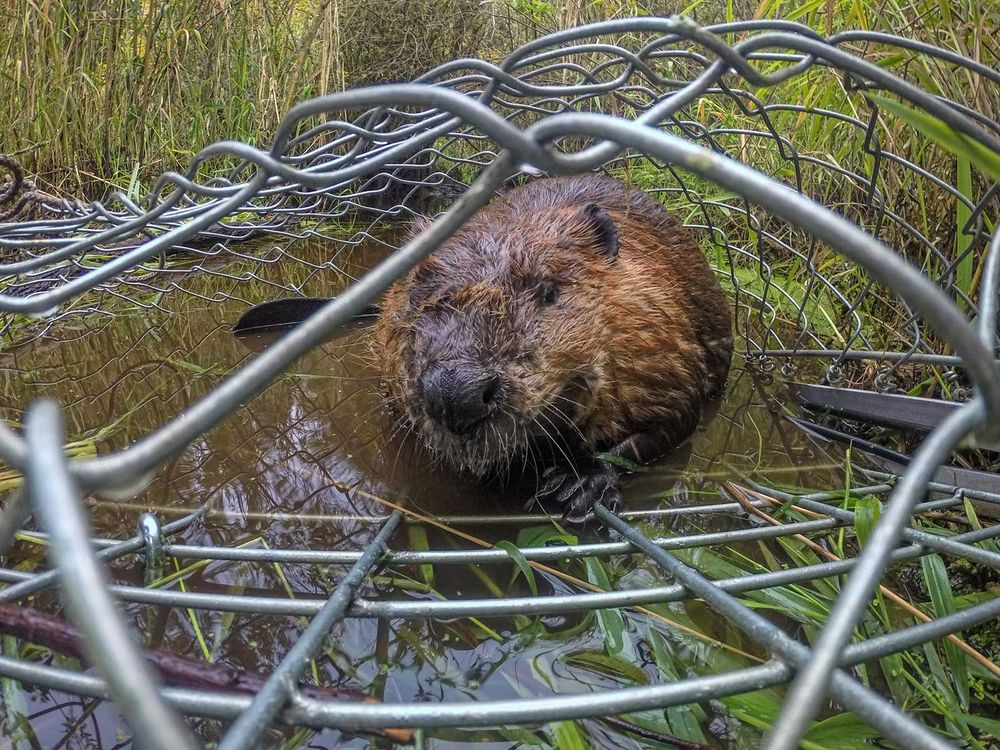 A beaver peers out of a Hancock live trap after being captured by Molly Alves, a biologist with the Tulalip Tribe in Washington.
On a bright day in a suburban Seattle backyard, a very confused beaver peers out of a wire trap. His crime? Flooding a creek behind a home and causing property damage, an increasingly common occurrence in the region. Confused, the rodent squints and watches as Molly Alves, a biologist with the Tulalip Tribe, slowly wades up to him, picks him up—trap and all—and loads him into the back of her white pickup.
Alves is now set to perform an environmental switcheroo: She's going to take the beaver out of the urban environment of western Washington and move him eastward to remote headwaters in the Mt. Baker-Snoqualmie National Forest. She's hoping that there, the beaver will create dams that turn the wild landscape back into a maze of wetlands that benefit wildlife from mosquitoes to brown bears, and to fish — including endangered salmon.
Alves helped launch the Tulalip Beaver Project in 2014 with the aim of using beavers to boost declining salmon numbers. Since the low-cost project began, scientists have relocated more than 200 "nuisance" beavers, as they are called, and created dozens of salmon-friendly beaver ponds. While scientists don't have statistics on salmon population changes after beaver reintroductions, they say anecdotal evidence shows the rodents reshape the landscape in a way that's fostering more fish. Now they're set to expand their easily scalable work into new watersheds in western Washington, and other groups in the Pacific Northwest are picking up on their successful tactics too. "I've heard multiple people say that Washington is kind of a leader in beaver projects," says Kodi Jo Jaspers, a Trout Unlimited employee and manager of the recently-launched Wenatchee Beaver Project on the other side of the Cascades.
The reintroductions are important because the outlook for wild salmon is dire, especially in the Pacific Northwest. About a third of salmon and steelhead populations on the West Coast have already gone extinct according to a 2007 study in Conservation Biology. Today, 14 more populations out of 131 remaining are at risk of extinction in Washington alone, according to a 2020 report produced by the governor's salmon recovery office. In the heavily populated Puget Sound area, only one of 22 different populations of chinook salmon—the largest species—has exceeded population goals set by NOAA in 2007.
These declines have led to a flurry of funding for salmon recovery projects. Many of those projects are costly and logistically complex; they include tearing down man-made dams that block fish passages, removing pollutants from contaminated waters and installing new salmon-friendly bridges over spawning grounds. The salmon recovery office estimates that only 22 percent of the funding needed for these projects has been met—after $1 billion has been pumped into salmon recovery efforts.
"There's so many restoration projects going on for salmon and they're so large scale and expensive and time consuming, and you don't always see the immediate benefits," says Alves. Beaver relocation, on the other hand, adds favorable salmon habitat "for a fraction of the cost and a fraction of the time and effort."