Competitive freediver Adam Stern has experienced some remarkable moments in the water. In 2015, he set an Australian record with an 85-metre free-immersion dive – a record that he has gone on to break a further four times. More recently, though, Stern had a chance to enjoy an altogether different diving experience when he took a dip with a humpback whale in the glassy waters off the coast of Nuku'alofa in Tonga.
"I have swam with other species of whales in the past, but besides doing my deepest dives to 106 metres, this was the best diving experience of my life," Stern told us via email. Tonga, a cluster of rainforest-covered islands scattered in the South Pacific some two-thirds of the way from Hawaii to New Zealand, is one of the few places in the world where tourists can responsibly dive with whales. Stringent rules ensure that only licensed whale-watching operators are permitted to approach the humpbacks as they make their annual migration from feeding grounds in Antarctica to tropical Tonga waters where they mate and give birth.
Most of the whale-watching vessels in the area operate around a collection of islands called Vavaʻu; however, Stern and his group opted to beat the crowds and were exploring more southerly waters around Nukuʻalofa off the island of Tongatapu when they bumped into a curious humpback. "This one actually caught us by surprise!" Stern explained. "We were in the water to listen to them singing – because there were no whales around at the time – and then this one just appeared."
Humpback sightings in Tonga start surging in July each year as the "Tongan Tribe" – a moniker given to the whales that frequent the area – makes its way along the submerged volcanic arch that forms the bedrock for Tonga's 170-plus islands. Rampant whaling in the twentieth century decimated Oceania's whale populations and the Tongan Tribe in particular is believed to have suffered significant casualties.
The King of Tonga put a stop to all whaling operations in Tongan waters in 1978 and humpback populations in the area have slowly risen over the last 40 years. However, unlike the populations in Australia, they are yet to reach pre-whaling highs. Conservationists are hoping that the thriving whale-watching industry in Tonga can help bolster the numbers.
Many whale-watchers in Tonga have left the waters with stunning footage of close-up humpback encounters.
"Responsible whale and dolphin watching is a win-win solution for whales and people in Tonga, and has the potential to provide important economic opportunities to the people who live there," IFAW Pacific Officer, Olive Andrews stated in a press release regarding the role that whale watching plays in the Tongan economy. "Whales are clearly worth far more alive than dead."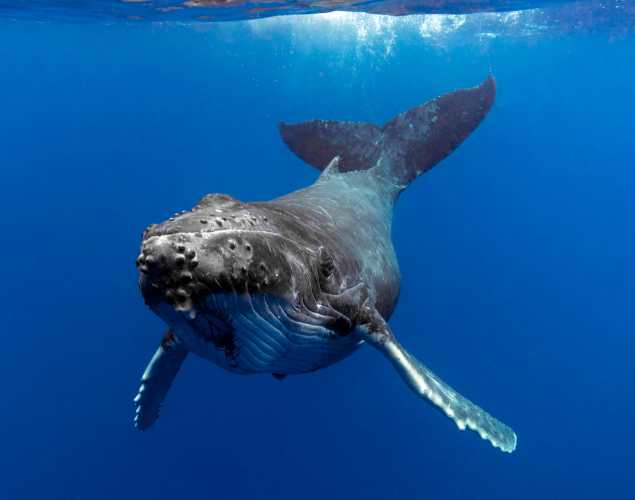 Many people who have swum with humpbacks would likely agree with Andrews's sentiments. According to Stern: "Swimming with humpbacks is actually quite emotional. It's incredible to see something so huge in the water and even more incredible when that giant creature is interested in you. The whales would swim and play with us. It surpassed all the expectations that I had before going on the trip."