"From Death Row to Purrfect Life: The Amazing Transformation of a Rescued Ginger Cat!"
Meet Claus!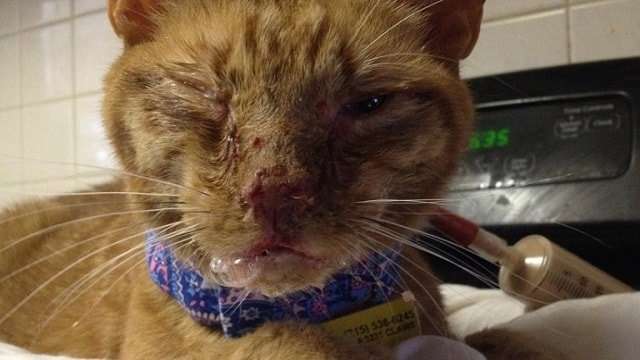 Claus, a sickly feline, was in a dire situation as he refused to eat and drink. His owner had no choice but to bring him to a shelter due to unforeseen circumstances. Unfortunately, Claus was surrounded by many other cats in the cramped space, and he eventually caught a respiratory infection which made his condition worse.
Furthermore, Claus contracted Calicivirus, a virus that causes uncomfortable canker sores in his oral cavity. Consequently, the animal shelter was prompted to search for a new home for Claus urgently, failing which they would have to euthanize him.
Upon hearing the call for help, Pam Martin answered without hesitation. Being an experienced cat foster parent for more than six years, she felt compelled to take action. She wasted no time and promptly took Claus under her care and had him admitted to a veterinary hospital.
Claus spent a few days in a veterinary hospital where he received continuous care. Despite the challenging situation, Claus maintained his pleasant personality throughout the entire stay. Fortunately, Claus started to make progress and began recuperating gradually.
Martin has provided Claus with dedicated and thorough care for a period of four months, resulting in a remarkable transformation in his appearance.
This adorable little guy is all set to find his forever home and shower his new family with love and affection!